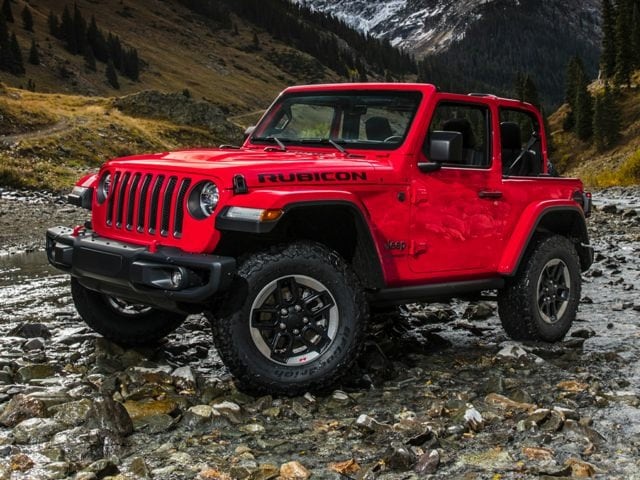 Experience More with the 2019 Jeep Wrangler
Finding a vehicle that can handle just about any scenario isn't as easy as it may seem. The ability to handle trails, a daily commute and more is a list that's hard to check-off. Thankfully, there's one brand that's remained committed to developing vehicles that can do it all - Jeep. For years Jeep has been creating fan-favorites in the world of outdoor enthusiasts. And for the 2019 model-year, that remains the same. The 2019 Jeep Wrangler is ready to tackle your lifestyle needs, and look great while doing so.
With an honest and capable attitude, the 2019 Jeep Wrangler is the same beast it's always been. With many welcomed updates, it retains everything that makes a Jeep Wrangler a Jeep Wrangler, while embracing modern tech. And with a variety of trim levels, you're likely to find the perfect 2019 Jeep Wrangler that you've been dreaming of.
A Jeep for Every Need
Jeep is committed to their customers. Which means they provide a range of model options in order to satisfy every need. Whether you're searching for a 2019 Wrangler, that's stripped down and basic, or one that has some luxury feeling, you'll be able to find the right one without settling.
2019 Jeep Wrangler Sport:
The 2019 Jeep Wrangler Sport features the iconic 3.6-liter V6 engine. Generating 285 horsepower and 260 pound-feet of torque you'll be able to handle more than you think. In addition, a new soft top option makes opening up your Jeep Wrangler an easier experience.
2019 Jeep Wrangler Sport S:
An available 2.0-lite turbo engine, will aid in making your Jeep Wrangler more efficient. Blind spot monitoring and other safety features will allow you to feel confident while you're on the road. Additionally, the standard six-speed manual transmission is complemented by an eight-speed automatic.
2019 Jeep Wrangler Sahara:
A legend when it comes to the Jeep Wrangler, the Sahara trim level welcomes some great features. Ambient LED interior lighting is standard while an 8.4-inch infotainment system with navigation is available. Apple CarPlay is made standard as well.
2019 Jeep Wrangler Rubicon:
Sporting the iconic red tow hooks, the 2019 Jeep Wrangler Rubicon is a capable trim with great features. The available power top is easy to operate and the standard 33-inch all-terrain tires allow you to tackle rugged terrain. For those who want to push the limits, the Rock-Trac 4:1 low transfer case adds some extra support.
2019 Jeep Wrangler Moab:
Featuring unique design cues, the 2019 Jeep Wrangler Moab sets itself apart from other Wranglers. Leather interior add to a comfortable experience, while features like the steel bumper prove this Jeep is as tough as they come.
Discover What a 2019 Jeep Wrangler Can Do for You
If you're ready to upgrade your Jeep experience, the 2019 Jeep Wrangler is ready to answer the call. With multiple powertrain options, you can get a Jeep that goes where you need it too. And its multiple trim levels give the opportunity to get a Jeep outfitted to your unique needs.